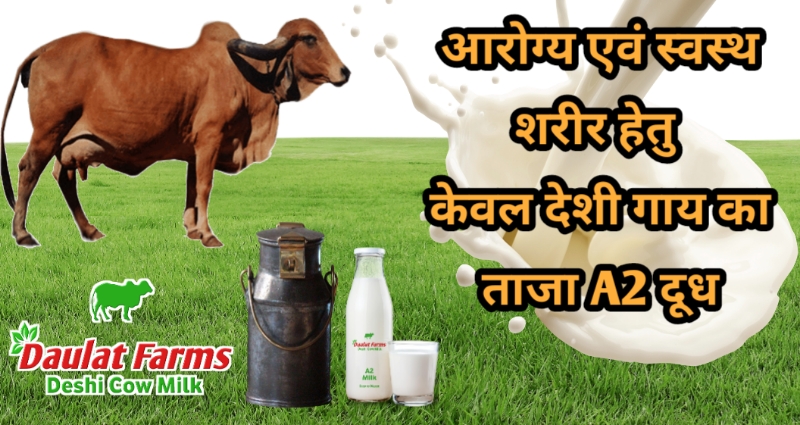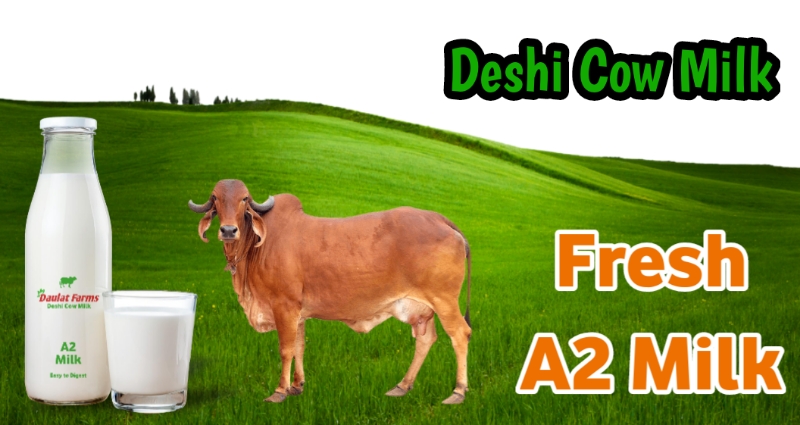 Antibiotic & Hormone Free Milk

We don't give Antibiotics or Hormones to our Cows
Huge Savings

Pure A2 Milk at lowest price guaranteed
Pure A2 Cow Milk

A2 Milk from Pure Desi Cow Breeds
A2 Milk is milk from Indian cow breeds like Gir, Sahiwal, Tharparkar and it contains A2 milk Protein, Whereas A1 milk is obtained from exotic breeds like HF, Jersey and their hybrids contains A1 milk protein.
A2 milk is purest form of milk and considered as closest form of mother milk, Whereas A1 milk is poor quality ordinary milk.
A2 milk contains strontium which boost immunity, Whereas A1 milk contains BCM - 7 which is responsible for various health problems.
A2 milk is rich in calcium, Whereas A1 milk contains low calcium.
A2 milk is rich source of vitamin A while A1 milk contains low Vitamin A.
A2 milk contains high level of Omega 3 Fatty acids which cleans cholesterol deposits from blood vessels, Whereas A1 milk is responsible for many diseases like Allergy, Stomach ulcers, Type 1 diabetes, cardiac disease, Obesity etc.
Cerebrosides present in A2 milk which increases brain power, while A1 milk may lead to schizophrenia, autism.
A1 milk can cause lactose intolerance in persons, Whereas A2 milk is safe for lactose intolerant persons.
Harmful Effects of A1 Milk
Purity with Lowest Price Guaranteed
Healthy Eating for Strong Heart Beating
Difference between Raw milk & Pasteurized milk
Raw milk obtained from cow, buffalo etc. which has not been processed or heated to kill the pathogenic microbes Pasteurization is a process in which raw milk is heated to a specific temperature and held at that temperature for a specific duration in order to kill the harmful bacteria.
Raw milk is not considered to be fit for consumption because it contain lots of pathogenic microorganisms like Salmonella, E.coli, Listeria etc. which causes helath risks like vomition, diarrhoea, miscarriages. where as pasteurized milk is safe as it potentially kills pathogenic bacteria.
Raw milk has shorter shelf life than pasteurized milk.